Eco-cabin finally complete, first pupil to get a qualification in Creative Craft, being picked as one of the Mayors charities – its been another great year for Moulsecoomb Forest Garden.
However, the background is that life is becoming increasingly difficult for small charities.
I recently attended a meeting held by Sussex Community Foundation with Vanessa, one of our trustees. Sussex Community Foundation, who have been long-term supporters of our work, were launching their new report 'Sussex Uncovered'. In just 10 years the foundation has become massive players supporting the local charity sector by dishing out a staggering ten million!
You don't need to be a rocket scientist to know why the room was packed – as they pointed out, we have a perfect storm. Thanks to government cuts, charities are needed more than ever, while funding is harder to come by and the media is full of stories that question charities' work.
As many of our volunteers know only too well, disability services are being cut, centres shut, benefit forms getting more complicated and general support ebbing away. Anything that isn't statutory will go. That's why I welcome Mick Ardron as our newest trustee. Mick has been working with the council's disability team for a number of years and will help make sure that we continue to shape our work around some of our most vulnerable volunteers needs.
We run a nimble forest garden ship but I can't tell you how depressing it is to be on the constant hunt for small pots of money. I recently made an application to Comic Relief for core funding – you know the boring stuff that keeps us ticking over like wages, insurance and rent. They turned us down saying they had received 1,541 applications and could only fund 100. Not that we know why we didn't get it as we just received a bog standard rejection letter.
If you read the Brighton Argus you will see that half the paper is full of stories of people fundraising or charities looking for ways to fundraise; and social media is no different with endless calls for sponsorship. Our trustees do sponsored runs, chat up rich people, make deals with companies while I spend Monday and Wednesdays at my computer wearily looking at grant tip-offs and trying not to bang my head against the nearby wall.
So if you have a good fundraising idea let us know. One of volunteers grandad convinced the Co-op Funeral Service to buy us nearly £300 of equipment while Santander gave us £250 for us hosting a team building day meaning not only did they clear around the bee area, but meant we could buy new tools for the garden. Secretary Duncan's father in law bought us a couple of new if slightly squeaky wheelbarrows. We've had wood donated from Kingdom Landscapes and Wood Recycling Project; and got deals on manure and woodchip. And if you know someone who might want to become a Friend of the Forest Garden and make a monthly standing order, no matter how small, then please give them a nudge. It makes a big difference.
It also helps that we became one of the Mayors chosen 27 charities and I like to thank the Mayor Pete West not just for choosing us, but for his ongoing support for the forest garden for many years and all the hard work he's put in supporting charities across the city since May. That's not to say we aren't continually looking at ways to wean ourselves off grants with
49% of our income self-generated and 6% from donations.
The Mayor tries out the smoothie bike during our open day
We hit the ground running with our work with schools at the beginning of this academic year, and have a full timetable – which says something as school budgets are themselves being squeezed. Our instructors Pat and Phil are well-respected across the city, not just in schools but
social services, support agencies and the council. We now work with 11 different schools, and 5 pupils managed to get qualifications with us this academic year including one lad who came up during the summer holidays to make sure he passed his NCFE Level 2 in Creative Art (Heritage and Traditional Crafts) As well as at the forest garden Pat works a day a week at
Brighton Aldridge Community Academy
, whose outsidespace is finally maturing.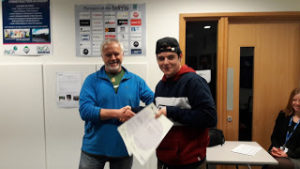 Blake receiving his award from Pat at BACA presentation evening
As anyone who has ever visited the garden at lunchtime will know, the food being dished up just gets better and better thanks to Carly, Daisy and Jo. Carly also works at BACA and Moulsecoomb Primary where the continuity between us and students is key to our work. I run a lunchtime gardening club at Moulsecoomb Primary and we have helped build a new garden space for pupils needing respite from the classroom. As we're talking about cooking, I must also say thanks to Andrew and Will who often cook up a storm on a Tuesday; and who both attended a food hygiene course, along with Lianne, a bubbly volunteer whose been coming up since April when Tower House, a day centre for people with learning disabilities, was closed. I'd also like to thank Pilchard for eating all the biscuits.
Feast!
Thanks to the tenacity of our chair Susie Howells and funding from the Peoples Postcode Lottery our eco cabin is finally finished, fully compli

a

nt with retrospective planning permission
and we can now look at options how to use it to generate income.Susie spent endless hours on the planning application, and persuading people to work for us for free or at cost, including incredible support from
R
oyal Town Planning Institute
volunteer Emma, local architects
ZSTa
, brilliant local builder Pat Plumstead and many others who wrote to support the planning application. Infact after finishing work on the building Pat wrote 'I wanted you to know that we have all very much enjoyed working on your lovely project. We have also been genuinely touched by what we have experienced during our time at the allotments. The effort you guys all make to bring some enlightment too, and enthusiasm out, of the people that attend has been both humbling and very inspiring in equal measure.'
Testing out the new balcony at our Christmas Party
We held our first user group meeting, where we listened to peoples ideas on how to improve the garden, and we've been busy putting in handrails to make it easier to get around. We continue to clean up Queensdown Woods and surrounding area, and talk to students and the university about their inconsiderate parking. Thanks to funding from the The Pebble Trust we also ran another summer scheme for Moulsecoomb children to have fun learning about bushcraft, playing games in the woods – and of course, making pizzas in our clay oven.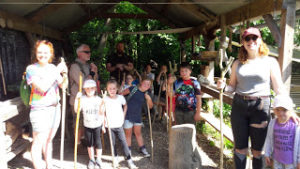 We're going on a Bear Hunt
We have welcomed the usual wide variety of groups such Moulsecoomb Primary School Year 1 planting garlic, Bedes College, Brighton Housing Trust, Concordia and ongoing placements for University students as part of their community module. Our annual open day was the most successful yet with the most pupil engagement and lots of families from Moulsecoomb and the surrounding area. 
Firelighting
We came joint second for best wildlife garden in the Brighton and Hove City in Bloom awards, and 2
nd
for best community allotment. Carly even wore a dress to the awards.
So thank you to everyone who helps

. I

n the scheme of things, we might be a small charity but I reckon we pack a very big punch. And as the Chief Executive of Sussex Community Foundation said – 'you might not be able to change the world, but you can change somebodies world.' 
Warren Carter, Project Manager